04.27.2011
May 02: Sabrina Deep Does Veggies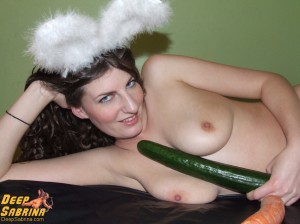 The deep fanstalker is to bring back her acclaimed veggies live show and to teach you how to eat healthy. If you think that vegetables are boring, think again and watch Sabrina going down her daily intake of vitamins and minerals with joy and happiness.
Here at Fanstalker we are really proud to invite you to watch this hardcore event for free and to show you the stunning performance which has made Sabrina Deep one of the most wanted and watchjed performers on webcam. The event will be broadcasted live on May 2nd at 8pm GMT.
Keep an eye on the below countdown: when it will reach zero a link will show up; click on it and enjoy the show! Don't forget to leave comments for Sabrina and to spread the word about this event.
The show has ended: Get instant access and watch it recorded!
3 Comments to "May 02: Sabrina Deep Does Veggies"