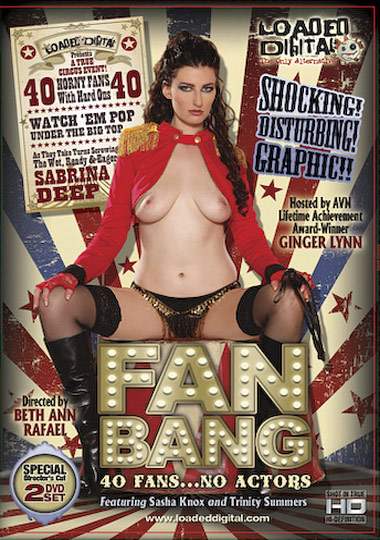 FanBang: the Movie
Category
: All Sex, HD - Shot In High Def, Amateur, Gang Bang, Pro/Am
Director
: Beth Ann Rafael
Starring
: Sabrina Deep, Sasha Knox, Trinity Summers and Ginger Lynn as the host
If you love gangbangs, then this hot, creative take on the niche is a must-see! After all, it's literally a circus.
AEBN
AAAA rating - This DVD is truly a gift for Sabrina Deep devotees, from the eye-catching boxcover (featuring Deep dressed up as a ringmaster) to the last bit of behind the scenes footage.
AVN
This is deep shit. Sabrina Deep shit. Gangbangs don't get much better than this.
WHACK! Magazine
Watch the teaser, the hardcore trailer and 10 minutes of the behind the scenes footage on
Fanstalker TV
and visit
MetroMovies
for watching the full movie online. If you want to buy the DVD, visit a sex-store near you.