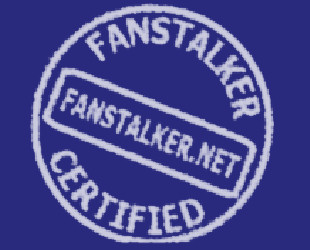 We Fuck Our Fans
Welcome to the pleasure dome! Fanstalker is the place for fans who wanna be on the right side of porn. When Sabrina Deep entered the adult industry in 2007 and she started touring the world to meet her fans and shoot porn with them, she wasn't given much attention by the industry adepts. Ten thousand fans, two Howard Stern's appearances and one XBIZ nomination later, she is the undisputed leader of a trend which is spreading fast throughout the world of adult entertainment and this leadership is now incarnated into the Fanstalker project.
What is a fanstalker?
A fanstalker is an adult star who genuinely cares for her fans. She does not have an attitude, she is reachable, she believes that her fans make her an adult star. The fanstalker really like sex because she performs unscripted sex with her fans. The fanstalker really likes her fans because she travels to meet them, she shares her telephone number and contacts with them, she performs with them.
So, What is Fanstalker.net?
It's the home of the fanstalkers. Here we certify and promote the fanstalkers and the fanstalkers stalk their fans. Here you can find out what the fanstalkers are up to, to check their incoming schedule, to apply to their worldwide tours, to watch their special free live broadcasting events, to watch some of their videos, to access their sites with just one password and much more.
What is the fanstalker network made of?
Fanstalker.net
- The mom of all the network' sites. Free.
WorldBukkakeTour.com
- Meet the fanstalkers in the flesh, worldwide. Free.
WBT Board
- Meet thousands of other fans who met the fanstalkers for real. Free.
Fanstalker TV
- An online TV channel brodcasting the fanstalkers interviews, videos and live events 24/7. Free.
DeepSabrina.com
- The personal website of fanstalker Sabrina Deep. Paid (one fee and get access to all the fanstalkers personal sites).
GinaBlondeLive.com
- The personal website of fanstalker Gina Blonde. Paid (one fee and get access to all the fanstalkers personal sites).
Sabrina Deep on Twitter
Gina Blonde on Twitter
Fanstalker on Twitter