08.22.2012
Julia Ann Joins The World Bukkake Tour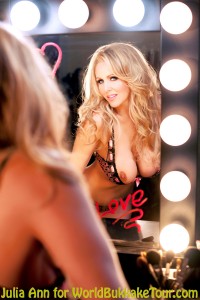 Sabrina Deep announces that her friend and adult icon Julia Ann will be the precious stone of the final act of the World Bukkake Tour 2012.
Taking place in Los Angeles in January, the last event of the most longeve and renowned live adult tour to date will pair Ann and Deep together for the first time on set and promises to become one of the most anticipated live adult events of the millennium and a blockbuster movie.
Julia Ann, an AVN Hall of Fame Inductee and a former contract star for Vivid, Digital Playground and Wicked, is one of the industry's most sought after MILF performers shooting with the likes of Kink, Brazzers, Zero Tolerance, Girlfriends Films & Naughty America.
She has won countless industry awards including AVN's MILF of the Year Award in 2010 and 2011 and most recently she was nominated by Nightmoves for MILF Performer of the Year 2012.
Not new to gangbangs, her collaboration with Sabrina comes as no surprise, also given their long term friendship off set.
"A couple years ago I was hired to be Sabrina Deep's makeup artist for her gang bang in 'Fan Bang With Sabrina Deep'," Miss Ann says. "I fell in love with her that day. She was so human, so strong and fragile at the same time. I remember half way through her scene giving her a hug and she looked at me with sexed up makeup running down her face and asked why I was so nice to her. Sabrina is a woman that gives herself physically and emotionally to her fans in her scenes and I respect her, so when she asked me to be a part of her next production I said yes without hesitation. I'm excited to be involved in her next movie venture and even more excited to see my long distance friend."
"Working with Julia is a dream come true for me and doing it for and in front of my fans represents the best possible way to end 5 years of World Bukkake Tour." Sabrina says. "I will leave the tour at its highest peak, because you can't do anything better than having Julia Ann casted for such an event. This is a spectacular way to thank all my fans for 5 fanstastic years on the road."
Deep has not yet revealed what Julia's part will be in the final Bukkake act but she promises that it will be an active role beyond just hosting.
"I want for Julia to experience how fun is to deal with fans on a live event and for fans to get blown away by the top class act and person that she is, " Sabrina adds. "We are preparing something really unconventional, something that it has never been tried before and Julia will be at the center of it in all her splendor and sexual endeavorment."
The live event will be held and filmed in Los Angeles on January 12 2013 and it will be also streamed live exclusively on Streamate.com, while exclusively on Freeones.com fans will be able to watch behind the scenes footage and a little taste from the action just 24 hours after the event. Applications for the Los Angeles event featuring Julia Ann are now open at http://worldbukkaketour.com
The World Bukkake Tour will start from Barcelona in September and it will end in Los Angeles in January 2013, visiting 11 cities in Europe and North America in between. People who would like to participate can apply at the official World Bukkake Tour website – http://worldbukkaketour.com – as long as they are 21 years old or older and they can provide a nominal valid HIV and STD's certificate no older than 2 weeks before the date of each event. In Europe, participants will also have to submit to a rapid HIV test performed by a qualified nurse on the same day as the event. Natasha Starr will be the special guest at the New York City date in November, while others will be revealed later this year.
For instant updates and more information, the interested public can follow Sabrina Deep @SabrinaDeep and Julia Ann @TheRealJuliaAnn on Twitter.
Julia Ann's website http://www.juliaannlive.com/ is part of Vicky Vette's VNA Girls Network.
Julia Ann can be reached for comment and interviews at:
Julia@JuliaAnn.com
http://www.twitter.com/therealjuliaann
Booking: ATMLA.com
Sabrina Deep can be reached for comment and interviews at:
info@deepsabrina.com
http://www.twitter.com/sabrinadeep
Booking: fabio@deepsabrina.com